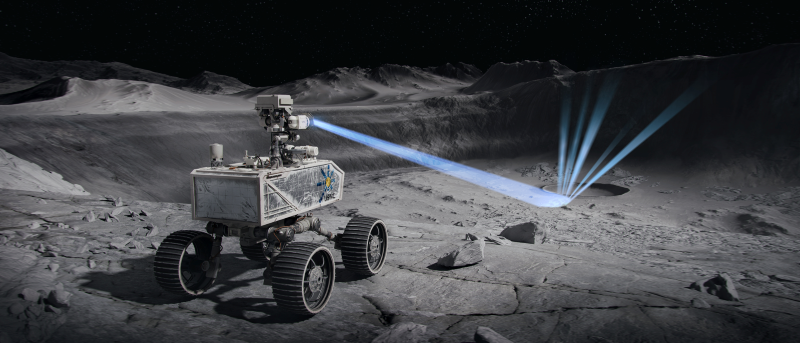 Ultra Safe Nuclear EmberCore Selected For X-Ray Flashlight Study by NASA Innovative Advanced Concepts Program
EmberCore technology gains momentum through "X-Ray Flashlight" study to enable long distance lunar characterization with intense passive x-ray source.
SEATTLE, WA – June 15, 2023 – Ultra Safe Nuclear Corporation (USNC), the U.S.-based global leader in the deployment of fourth-generation gas-cooled microreactors, announces NASA's selection of USNC's EmberCore™ technology as a participant in the NASA Innovative Advanced Concepts (NIAC) program. The Phase 1 study, "EmberCore Flashlight: Long Distance Lunar Characterization with Intense Passive X- and Gamma-ray Source," will be led by Dr. Chris Morrison, Chief Engineer, Radioisotopes. Supporting this work as a co-investigator will be Dr. Thomas Prettyman of the Planetary Science Institute.
The X-Ray Flashlight will utilize EmberSource™ which is based on the Ember™ nuclear chargeable ceramic Ultra Safe Nuclear has been developing for ultra-high-speed propulsion in space and survive-the-night capabilities on the lunar surface. By integrating EmberSource into a specially designed casing, x-rays that would normally be contained by shielding are instead released through a controllable aperture. As those x-rays interact with the lunar surface and reflect into a sensor, they can provide valuable information about the lunar surface and what lies beneath it.
"This technology will enable characterization of the structure and composition of the lunar surface in unprecedented detail," says Dr. Thomas Prettyman, Senior Scientist at the Planetary Science Institute. "The capabilities for standoff analyses of elemental composition and operation in darkness are potentially game changing."
A rover equipped with an EmberSource X-Ray Flashlight could use its x-rays to map the composition of broad areas of the lunar surface from a distance. With a beam strength several orders of magnitude greater than any x-ray source previously deployed in space combined with the mobility of a rover, it would be possible to map the composition of the lunar surface in far greater fidelity than ever before.
"The EmberSource x-ray flashlight represents the right combination of cutting-edge technology and groundbreaking science which the NASA NIAC program is designed to foster," says Chris Morrison, Chief Engineer for Radioisotopes at Ultra Safe Nuclear. "The new capabilities provided by this technology could revolutionize lunar exploration by giving us the clearest picture we've ever had of what resources are available on the Moon, hopefully paving the way for a sustainable human presence there."
The EmberSource X-Ray Flashlight in development for this Phase 1 NIAC is intended to be used in two distinct locations on the moon: Shackleton Crater, and Mare Tranquillitatis. In these places, it could be used to search for significant amounts of water and other volatile materials that are crucial for making the Moon habitable for humans long-term.
About the NASA Innovative Advanced Concepts (NIAC) Program
The NASA Innovative Advanced Concepts (NIAC) Program nurtures visionary ideas that could transform future NASA missions with the creation of breakthroughs – radically better or entirely new aerospace concepts - while engaging America's innovators and entrepreneurs.
About The Planetary Science Institute
The Planetary Science Institute is a private, nonprofit 501(c)(3) corporation dedicated to Solar System exploration. It is headquartered in Tucson, Arizona, where it was founded in 1972.
PSI scientists are involved in numerous NASA and international missions, the study of Mars and other planets, the Moon, asteroids, comets, interplanetary dust, impact physics, the origin of the Solar System, extra-solar planet formation, dynamics, the rise of life, and other areas of research. They conduct fieldwork on all continents around the world. They also are actively involved in science education and public outreach through school programs, children's books, popular science books and art.
PSI scientists are based in 30 states and the District of Columbia.
Media Contact for PSI:
Alan Fischer
fischer@psi.edu
520.382.0411
About Ultra Safe Nuclear
Ultra Safe Nuclear Corporation (USNC), a U.S. company headquartered in Seattle (WA), is a global leader and strong vertical integrator of nuclear technologies and services, on Earth and in Space. The company produces the Micro-Modular™ reactor (MMR®), TRISO-based Fully Ceramic Micro-encapsulated (FCM®) nuclear fuel, and develops nuclear power and propulsion technologies for space exploration.
The company has active micro reactor deployment projects in Canada at the Canadian Nuclear Laboratories in Chalk River, and in the United States at the University of Illinois Urbana-Champaign. Additional units are in development in the United States, Canada, and Europe.
USNC is committed to opening new markets around the world for safe, commercially competitive, power and heat from nuclear energy. Ultra Safe Nuclear Corporation is Reliable Zero-Carbon Energy. Anywhere.
Media Contact for USNC
Brian Meeley
b.meeley@usnc.com
703.282.0691